Building by playing!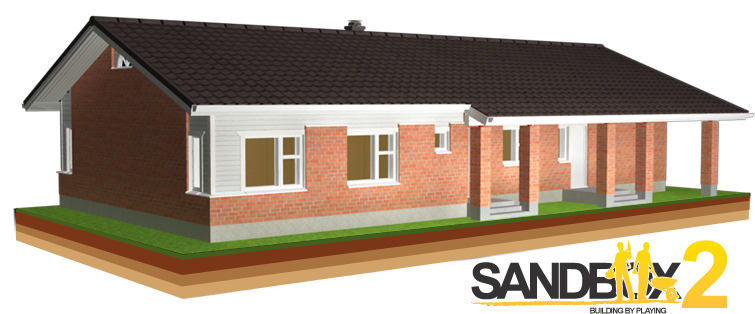 Engage, play and keep building the house started in Sandbox I till the roof in a immersive environment provided by RealXtend, the Finnish virtual world.
This pedagogical game has been financed by The Finnish National Board of Education (FNBE) and directed by Salpaus Further Education. The game developer is AduSal Oy.
The educational game Sandbox 2 is the continuation of the game Sandbox 1. We built the foundations of a house in Sandbox 1 we build the complete house in Sandbox 2. The second part comprises 11 phases you have to complete one by one. The game has been designed for one gamer or for teams of two. Game controllers/advisors can enter the game and follow gamers' work.
Notice!
Game is available in Finnish and free to download and install on pc computers only for educational use.
---
Objective?
The objective of the game is to better apprehend the construction of a house for young students. The 3D environment is an ideal way to learn the building technique of a house.
This a risk-free environment allowing errors. Learning from them the students have a better comprehension of construction technique and the real construction site.
Target group?
This is a game aimed at students and teachers of a construction curriculum. People interested in construction technique are also invited to familiarize with the game.
The game is free and can be downloaded from this website.
Computer
Prosessor

min 1,6 GHz

Operating system

Windows Xp or newer
Muisti
Memory (RAM)

2 GB RAM

Hard disk

500 Mb free space
Näyttö
Screen and Graphics

Graphics card with architecture Direct 3D 9.0 (Shader Model 3)

Screen resolution

min. 1366x768 px
And more…
The newest DirectX Runtime and a sound card
Contact us
Do you have questions or want to send us feedback? Send your messages to sandbox[at]salpaus.fi